Screenshot Breakdown
I'm assuming that you've
downloaded and installed HTML Kit
, you've started it up and are now staring blankly at your computer monitor while mumbling something akin to "What the [
insert expletive
]...?"
Well here comes the cavalry. First of all let's clearly define what's what...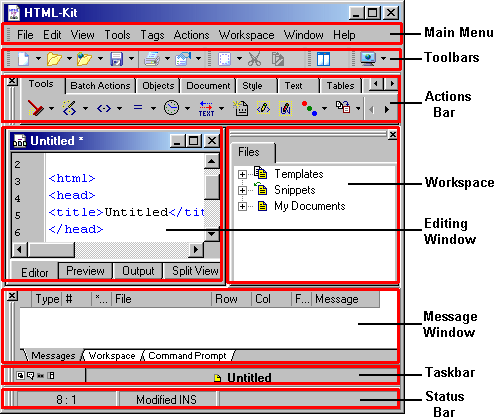 And now let's break it down:
Alrighty then let's strip this monster down and whip it into shape so it'll sit up and bark everytime you snap your fingers...
Web Hosting 101
Learn about web hosting without the technobabble!
What is Web Hosting?
Best Free Web Hosting
Affordable Domain Names
Affordable Web Hosting
See also:
How to Make a Web Page
Free Website Templates
If you need a .COM web address, you can get one quick and easy at...
www.GoDaddy.com